Business Innovation includes the Orthopaedics and Medical Education business units as well as Sectra's research department. Business Innovation also manages and develops Sectra's patent portfolio.
Quick facts
Figures refers to fiscal year 2021/2022.
38 emplyees
SEK 66.4 million in revenue
Customers
The Orthopaedics business unit is aimed at private and public orthopaedic clinics as well as manufacturers of prosthetics and implants. The operations in Medical Education focus on educational institutions and hospitals offering basic and specialist medical or veterinary studies, either privately or publicly.
Sales channels
Sales take place through an in-house sales organization and distribution partners in Orthopaedics as well as through an international network of distribution partners in Medical Education. The business units' solutions are also sold as part of Sectra Imaging IT Solutions' customer offerings.
The Group incubator
Business Innovation is the Group's primary incubator. This includes business units, research operations and future projects that, in their current phases, can benef it from being pursued in an incubator environment or that do not easily fit into any of our existing areas. The latter may be because the products and services target another customer segment. The long-term ambitions are to:
contribute to better care for patients by solving difficult and important problems encountered by Sectra's customers.
commercialize new technology, validate clinical benefits or pursue projects that could lead to new and innovative solutions that add value for customers in Sectra's niche areas significant international business potential.
give smaller operations and business units the best conditions to develop and grow.
build and manage a strong patent portfolio in Sectra's key areas.
develop business models for new products and services
In Business Innovation, there are currently only medical technology projects and operations, but this may be expanded to include projects in other areas in the future.
Sound scientific and medical evidence is essential in healthcare. Implementing new technologies and methods is often a protracted process and associated with high risk. As a result, some research and other early-phase projects will never grow to any major degree. In some cases, operations in Business Innovation are already profitable business units with existing customers that need to grow further. In the long term, the business units and projects are to be managed in one of the following ways:
become a separate operating area
incorporate the unit into an existing operating area. This occurred, for example, when digital pathology was transferred to Imaging IT Solutions in 2014, due to the major synergies identified.
spin off as an independent company or be sold to an external party if this proves to be the best solution from a financial standpoint. This occurred, for example, with the business unit for low-dose mammography products, which was divested in 2011 and the sale of patents in 2015.
discontinue if the unit does not offer sufficient potential. This occurred, for example, with the osteoporosis business unit in 2017/2018.
The research department's roles are to support Sectra's established areas and to evaluate and conduct long-term, high-risk projects that can result in business within three to ten years.
Business units
Safer surgery using digital planning
The number of joint replacement surgeries is expected to increase sharply due to an aging population worldwide and is a major global healthcare challenge. To meet the growing need for better, more efficient care, Sectra offers IT systems for image-based planning and follow-up of orthopaedic surgery— for example, hip, knee, spine and trauma surgery. Using 2D and 3D medical images, measurement tools and a library of more than 90.000 implant templates and click guides, orthopaedic surgeons can diagnose and plan with greater accuracy.
For hospitals, increased precision during planning leads to reduced costs, since the operating time is shortened and the number of implants to be prepared before every surgery is reduced. For the patient, more efficient planning and shorter operating times reduce the risk of post-operative infections and other complications. Our offering also includes tools for radiologists who specialize in the musculoskeletal system. The ability for orthopaedic surgeons and radiologists to work together in the same system can lead to major time savings.
Sectra's offering in orthopaedics has included Sectra Implant Movement Analysis (IMA)—a service for postoperative follow- up—for a few years now.  The service helps orthopaedic surgeons determine if the pain experienced by some patients after an implant surgery is caused by a loose implant. This means that unnecessary and risky surgery can be avoided if it turns out the implant has not come loose. Furthermore, our solutions also contribute to simplifying and streamlining the proof-of-concept process for new implants using the Sectra CTMA measurement method, which facilitates the measurement of movements between implants and bones using computer tomography.
Sectra is currently the market leader in preoperative planning in Scandinavia and commands a strong market position in several other countries, including the Netherlands and the UK.
The way forward
The business unit's ambition is to contribute to improved orthopaedic preoperative planning and postoperative follow-up through the development and sale of cloud-based services and software for image-based orthopaedic planning and follow-up. This is how we can help our customers provide better, more cost- efficient care to patients. Our prioritized activities are:
growing primarily in Europe and North America where the business unit has its own sales organization
focusing on sales in the joint replacement surgery (hip, knee and shoulder) and trauma surgery segments through direct sales and in cooperation with implant manufacturers
introducing and establishing the service for postoperative follow-up and the method for validating new implants in clinical studies in new markets, for example in the US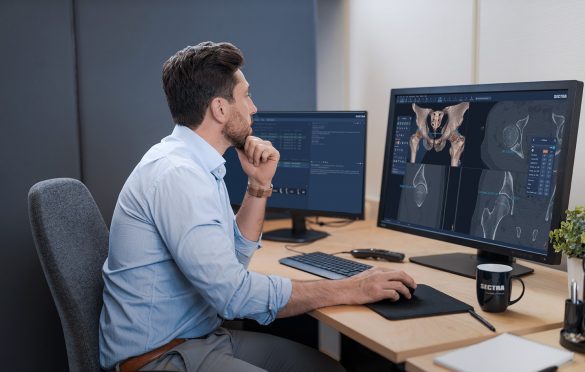 Cloud-based training platforms for reality-based learning
There is great need for training more doctors and nurses, which puts demands on modern training systems. By interacting with medical images from actual patient cases, students and resident physicians gain a better understanding of anatomy, bodily functions and variations, and better knowledge about different cases. We offer the Sectra Education Portal, a cloud-based education portal that provides users with access to a large digital library of quality-assured medical cases and images. There is also the possibility of using own cases and sharing them with other portal users. We also offer training terminals—Sectra's visualization table, for example—that are adapted to training in the classroom or lecture hall. During the last few years, we have moved from only supplying visualization devices for a one-time fee to primarily selling cloud services with a subscription model and a major focus on content.
Sectra's medical education solutions are currently available for healthcare personnel, medical training programs and veterinarians at roughly 400 educational institutions and hospitals in some 50 countries. Sales mainly take place through an international network of distribution partners.
The way forward
Our long-term ambition is to help our customers to improve medical education and simplify the lifelong learning of healthcare personnel. We aim to do this by:
increasing the use of the education portal so that more students can take advantage of reality-based learning
increasing the number of subscribers, primarily in Europe and North America
continuing to invest in our organization to move even closer to end users and help them maximize the value they gain from the portal
refining our solutions and enabling even broader usage
Innovation for sustainable growth
Sectra's research department conducts and participates in projects to produce clinical evidence for existing technology as well as to create new products—all in an effort to boost the company's long-term business value. Eight researchers work in the department, three of whom divide their time between Sectra and Linköping University. Sectra is currently involved in approximately ten research projects, including projects in the fields of orthopaedic surgery and digital pathology, where previous projects have resulted in expansions and improvements to our product offering.
Major focus on AI in ongoing research projects
AI is an underlying theme in much of the research department's work. Sectra is contributing research in diagnostic imaging so that AI can move from the laboratory to providing real value in clinical practice. Our researchers are working on solutions that combine AI and visualization, focusing on how physicians control and adjust computer results. Sectra is one of the main participants in the Vinnova-funded project AIDA, which serves as a national arena for research into AI for medical image analysis, with the aim of leveraging the full benefits of AI-based tools in the healthcare sector. We are also cooperating with Visual Sweden, a local initiative that is on the way to becoming a world-leading hub for innovation in image analysis and visualization, with close cooperation between industry, academia and the healthcare sector.
Sectra is also participating in the largescale Swedish AI initiative WASP (Wallenberg AI, Autonomous Systems and Software Program). During the year, our researchers contributed to important advances in simplifying the process of training AI using enormous data volumes, something that is particularly useful in pathology. On the same theme, a long-term EU project named BIGPICTURE was started under the Innovative Medicines Initiative during the year, with the aim of developing the largest ever database of pathology images. Sectra's contribution will accelerate the development of improved diagnostic methods based on AI and support collaborative efforts between healthcare and research.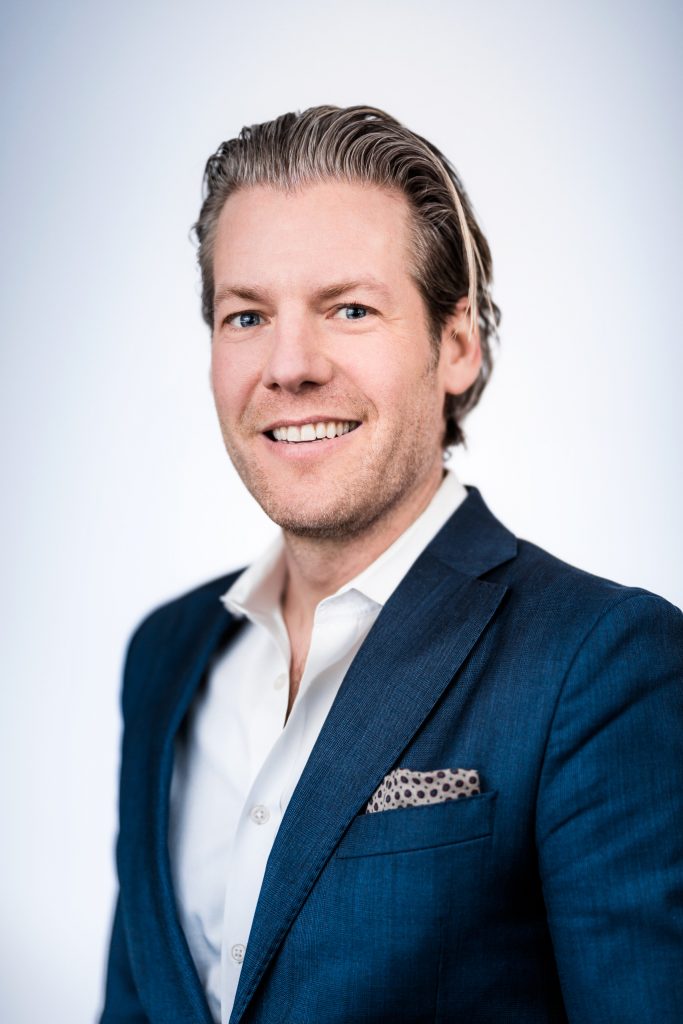 Gustaf Schwang
General Manager Business unit Orthopaedics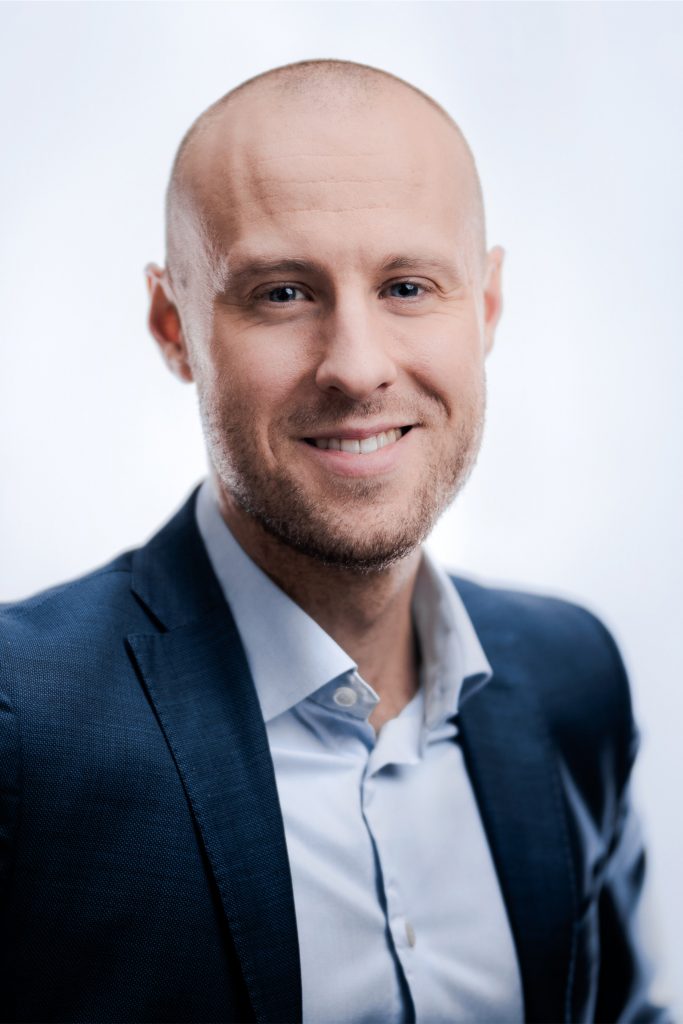 Johan Carlegrim
General Manager Business unit Medical Education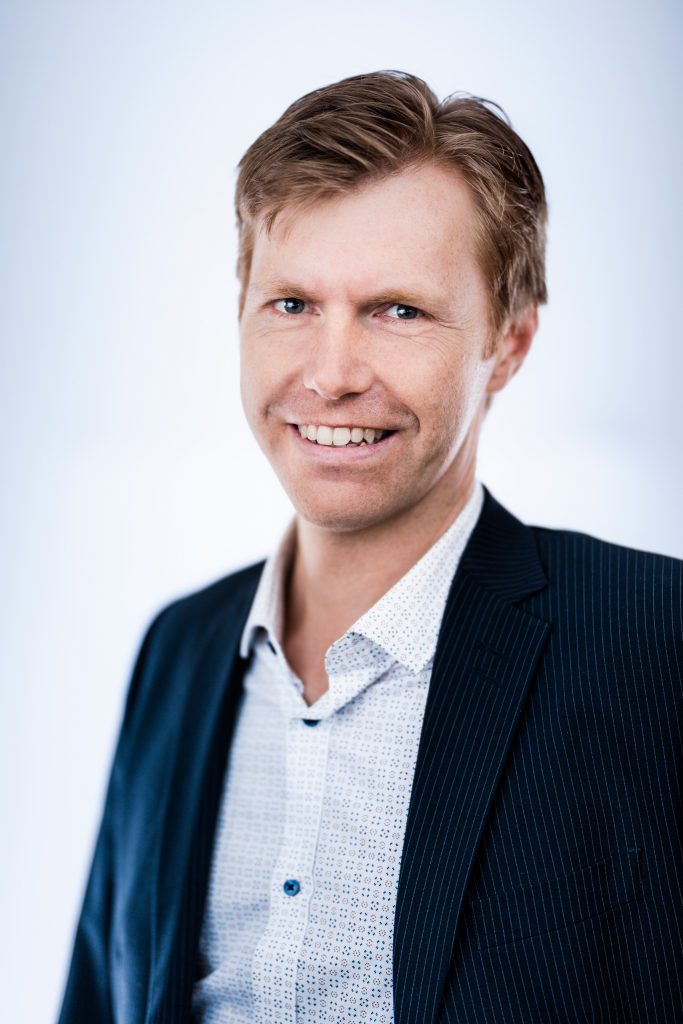 Claes Lundström
Research Director Medical systems